Around the Park
Jeff Fest
Save the date to join us at Jeff Fest 2016: Friday, July 29; Saturday, July 30; and Sunday, July31. Event information for festival including sponsorship, entertainment line ups and the kids zone will be available soon. To see more, please check the
Jeff Fest website
.
Arts, Entertainment and Dining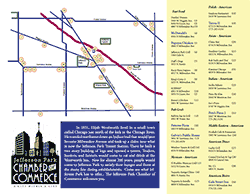 Jefferson Park has become the home to the premiere arts and entertainment district of the northwest side. We are proud to be the home of the Ed Paschke Arts Center, The Gift Theatre, Chicago Fringe Festival, Taste of Polonia, and so much more. Looking for a bite to eat?
Please check out the Jefferson Park Dining Guide (click on the image to download) (PDF 500 KB).
Boundaries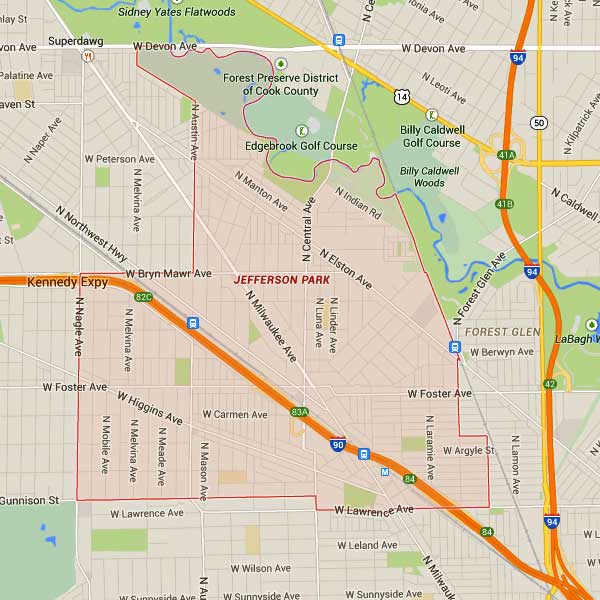 The Jefferson Park Community encompasses several neighborhoods on the northwest side of Chicago. The Chamber's service area is Cicero to the east, Austin to the west, Montrose on the south and Foster on the north. Businesses and not for profits are encouraged to participate, however we also allow members from outside our boundaries.
The Dibs Card

We're putting together a neighborhood discount card program for 2015. Simply present the card to participating businesses and receive a discount on their services. Stay tuned for details and how to get your Dibs Card. In the meantime,
discounts
are available now.
Neighborhood Schools
St. Constance School 5841 W. Strong Chicago, IL 60630 773-283-2311
St. Cornelius School 5252 N. Long Chicago, IL 60630 773-283-2192
Prussing School 4650 N. Menard Chicago, IL 60630 773-534-3460
Beaubien School 5025 N. Laramie Chicago, IL 60630 773-534-3500
Farnsworth School 5414 N. Linder Chicago, IL 60630 773-534-3535